I felt so lucky to have been invited by the French Institute in London to participate in the
South Ken Kids Festival
2015. Everything about it was a big draw - excuse the pun. I met families who had come for the first time, having heard about it from their kid's school, and whose kids enjoyed the workshops and events so much they planned to return next year - others who are hooked, year after year.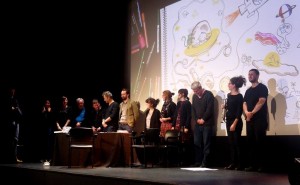 Here we are in the stratosphere after our last joint impro drawing to jazz
at the South Ken Kids Festival - left to right (in the dark)
Sam Usher,
Emily Hughes
,
Delphine Perret
, Claude Ponti, Bruno Heitz,
Barroux,
Benji Davies
,
Marjolaine Leray
, Bridget Marzo,
Beatrice Alemagna
, Axel Scheffler and jazz trumpetist Airelle Besson
Inspiring for us authors and illustrators - to meet and draw alongside each other - discuss each other's work and talk shop. Quentin Blake is the festival's patron so it is not surprising it has a strong author-illustrator focus - though there were some wonderful authors like French author Marie-Aude Murail and artists like Barroux who also work for older kids. Barroux's
Line of Fire
- a stunning graphic rendering of WWI soldier's diary (which he found in a skip) is out in English now, translated by Sarah Ardizzone - who also ran a translation workshop for children at the festival. Can't wait to read Alpha, the journey of an illegal immigrant from Africa in UK shops next year - here's a
taster
.
The beautifully stocked book stalls - French kid's books from
Librairie La Page
and a big range of English ones from
Tales on Moon Lane
drew kids, parents and us book people too. Talk about cultural exchange! Plus, a chance to hang out a few metres away in the French Institute's well stocked cafe, talking shop with other faculty between workshops and signing sessions, and chatting with parents and kids of all nationalities.
Perhaps it was Le Bistrot that inspired us for this cafe scene?
Group impro drawing to jazz - spot the two right-handers Axel Scheffler and Delphine Perret and two left-handers - me (drawing Tiz under the cake) and Benji Davies.
A big thank you to all the SKKF volunteers especially Rebecca Infield, Annabelle Royer for preparing the ground with friendly support for our events and school visits the preceding week. Overseeing this huge variety of events was the lively mind and charm of Lucie Campos, head of the French Cultural centre's Book Department.

Lucie set the tone with her sparkly wit and real

engagement
at the festival launch in the presence of Quentin Blake.

All at the French Institute in London were absolutely determined to counteract the horror and fear of the Paris attacks the previous week with the best of what culture from both sides of the channel could offer children - creative workshops and play and making, meetings, music, words...and pictures.
Beneath the joy of it all there is a serious message here, culture to oppose violence, flowers to oppose arms like the father suggests to his son in the Le Petit Journal video that's gone viral (see it
here
with English subtitles),
Here are pictures which none of us illustrators would have dreamed of creating, except together. We were all on the same page - yes - literally - with the audience and the sound of the trumpet and guitar too. True synergy!
Sam Usher, Magali Le Huche and Beatrice Alemagna drawing in response to Barroux's big yellow horn blower.